Mouflon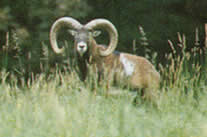 Physical characteristics and distribution
Body length: 80 cm
Weight: 35 kg
Life expectancy: 17 years
Distribution: Europe, South America, South Africa
Habitat: Laubelder, Küstengebierge and lowland in Europe, South America and South Africa lazy savanna regions
Species: not endangered
Appearance
The fur of the ram is reddish brown with a white saddle mark. (Good to see in the picture above). The horns are snail-shaped and turned inwards. In the females there are differences in the horns. Those who live in Sardinia have no horns. Those that are native to Corsica have small crooked croissants.
Reproduction and development
The mating season starts in October and ends in November. After a gestation period of about 170 days, the female gives birth to one to two cubs. The young are nursed for about six to seven months. They become sexually mature after about 18 months.
Lifestyle and behavior
The natural range is in Sardinia and Corsica. However, it is severely threatened in these areas. However, the moufflons were released in some areas. Therefore, the main deposits are in Hungary, Slovakia, Austria, France and Germany. Luckily, the moufflons had been released. Otherwise, they would already be extinct. There are about 62,000 pieces left of European mouflon. Where on Sardinia with 2,000 and Corsica with 800 pieces least live. In these areas the moufflon lives in stony mountain landscapes. In Central Europe, they live in deciduous forests and in the plains. They spend the time in small groups. The lead animal is the oldest buck. Some males spend their time in their own groups.
Feeding
The mouflon eats only vegetarian food. These include not only grasses or foliage, but also herbs and moss and fleas. Sometimes they even eat poisonous plants.
Hunting style, equipment and countries
The mouflon is huntable in many regions of Europe, especially in the Czech Republic and Croatia and Spain are very good deposits but also Hungary and Germany and Poland offer good opportunities. Outside of Europe, Argentina and South Africa are the best addresses. As a hunt, sohoel the stalk is used as well as Ansitz on promising sites. For muffels, all game-ready calibers are sufficient.
Hunting trip Countries
Germany
Poland
Czech Republic
Slovenia
Hungary
Spain
Argentina
South Africa
If you have any questions or are interested in a brokerage offer for hunting trips and hunting for mouflon, please contact us via email or contact form.
All offered trips are arranged by us and carried out by our partners as organizers.