Kudu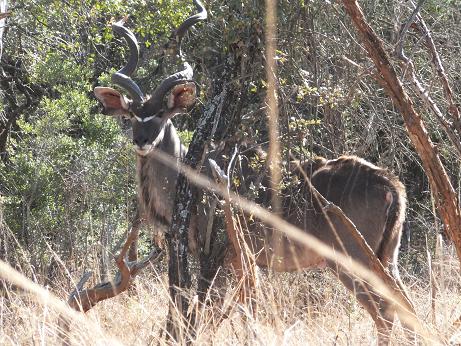 Physical characteristics and distribution
Body length: females:
Weight: females:
Life expectancy:
Distribution: southern Africa
Habitat: savannah, semi-deserts
Species: several 100,000, not endangered
Appearance
Reproduction and development
Lifestyle and behavior
Feeding
Hunting style, equipment and countries
Kudus occur in southern Africa like Namibia, Zimbabwe and South Africa. There are different forms such as Great Kudu, Little Kudu, Eastern Kudu. The hunt takes place mostly on the stalk but can also be combined with Ansitz at waterholes.
Hunting trip Countries
If you have any questions or are interested in an offer to hunt and hunt Kudu, please contact us via email or contact form.
All offered trips are arranged by us and carried out by our partners as organizers.