Elephant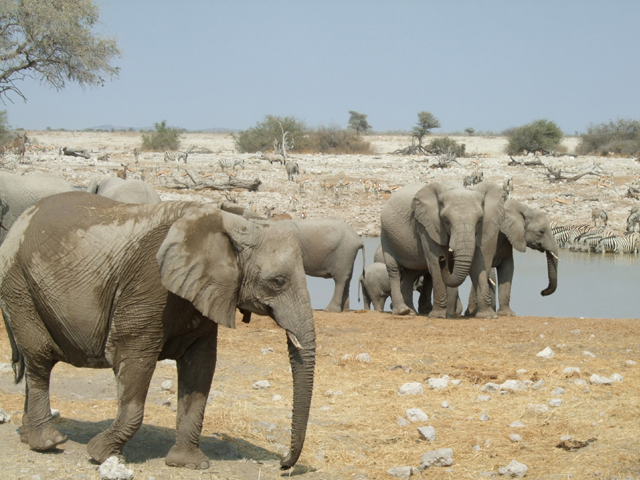 Physical characteristics and distribution
Body length: females: 4 – 6 m, males: 5 – 7,5 m (with trunk)
Weight: females: 1800 – 3500 kg, males: 3000 – 6000 kg
Life expectancy: 50 – 70 years
Distribution: in Africa, almost only in national parks
Habitat: savannah, rainforest
Artbestand: endangered
Appearance
The gray giants are unique in size and weight in the world of land creatures, with the forest elephant being smaller and lighter than the steppe elephant. Her wrinkled, gray skin can be up to four inches thick and is still very sensitive. Young elephants usually still have a thin coat, which disappears with age at the steppe elephants; bristles remain only on the mouth and eyes and at the tail end a tuft of hair. The forest elephants retain a little more body hair. The giant tusks of the steppe elephants are visible in both sexes; The bulls reach a tremendous length of up to three meters. The forest elephants are thinner, smaller and hardly bent. The ears are also a distinguishing feature, because the steppe elephants are larger and more angular than the small roundish of their forest-living relatives. Another special feature of both species is the long proboscis with two lip-like extensions, which are used mainly for touching, gripping and, of course, for smelling and breathing.
Reproduction and development
Both females and males, they are called elephant cows and bulls, have certain rutting times, which, however, are not tied to a season. In the males, a gland is seen behind the eye during these days, which secretes a strong-smelling liquid. During this so-called "musth", the pachyderms are very aggressive and belligerent. For mating they are looking for a female herd. About 21 months later, the elephant cow gives birth in most cases to a single cub that weighs over 100 kilograms at birth and can grow up to a meter in size. After about ten years, elephant cows are sexually mature, the bulls later. They leave their family. The animals reach their full size very late at around 15 to 25 years, and even then they continue to grow slowly until their death.
Lifestyle and behavior
African elephants are very gregarious animals and live in herds consisting mainly of elephant cows and their offspring. On average, there are about ten animals in a family group, but at certain times more than 100 people wandering together were spotted. The bulls, after leaving their mother, either roam the plains alone or form bull herds in which a ranking is fought.
Sensory abilities
The brain of the elephants is huge and powerful. Together with dolphins and apes they are counted among the most intelligent animals in the world. Thus, the phrase "having a memory like an elephant" (for a vindictive human being) presumably stems from the fact that the good-natured giants often know years later, when pain or suffering was once inflicted on them. Their hearing as well as sense of touch and smell are particularly pronounced. For example, the pachyderms can also perceive sounds that are very deep and inaudible to the human ear.
Feeding
Although the elephant is the largest land mammal in the world, its digestion is not exactly record-breaking: about half of the food consumed leaves the body undigested again. To still get enough nutrients, he is busy every day for about 18 to 20 hours with food, and often takes over 200 kilograms of grass, roots and bark to him. The pachyderms especially like to have fruit – especially if they are already overripe. Already more than 100 years ago, it was observed how the robust giants ate it full and then drunk (drunk by the lazy alcohol) drunk. The daily intake of water is equal to the amounts of solid feed: A total of about 80 liters of water sucked elephants throughout the day with the trunk on, then spray it into the mouth. Hunting, equipment and countries Elephants are among the most protected game species and hunting takes place only under strict conditions. There are few countries in which elephant hunting is still possible today due to the stable population under supervision (mostly by national park rangers), among others in Zimbabwe and South Africa. Each year, trophy elephants and toothless elephants, whose meat benefits the local population, are killed according to CITES quotas. The hunt is almost exclusively the stalking on the track with a fresh elephant track followed until the corresponding bull is reached. For elephants, the minimum caliber 375 H & H stronger caliber is recommended. The bullets should be hard (Swift Aframe, Barnes TTX) and combined with Solids to guarantee a better penetration depth.
Hunting trip Countries
If you have any questions or are interested in a mediation offer for hunting trips and hunting for elephants, please contact us via email or contact form.
All offered trips are arranged by us and carried out by our partners as organizers.