Sibirian Roedeer
We offer Hunting in Russia – Kurgan with our partner on sibirian roedeer. The Siberian roe deer has a very extensive range, ranging from the Urals to the Ochotschen Meer. It is a very adaptable species that copes well in the cold areas of central Siberia, in the mountainous areas of Tienshan and Altai, as well as in the warmer regions of southern China. With a live weight of up to 60 kg, the Siberian roe deer is almost twice as strong as the European roe deer. Similar to the body size, a good "Sibirer" has a trophy twice as strong as his European cousin.
The stocks of Siberian roe deer are abundant in the western part of the Siberian lowlands, in Russia behind the Ural mountains in the areas of Kurgan and Chelyabinsk and Ekaterinburg. The trophies from these areas impress with good perfusion, mass, good aversion.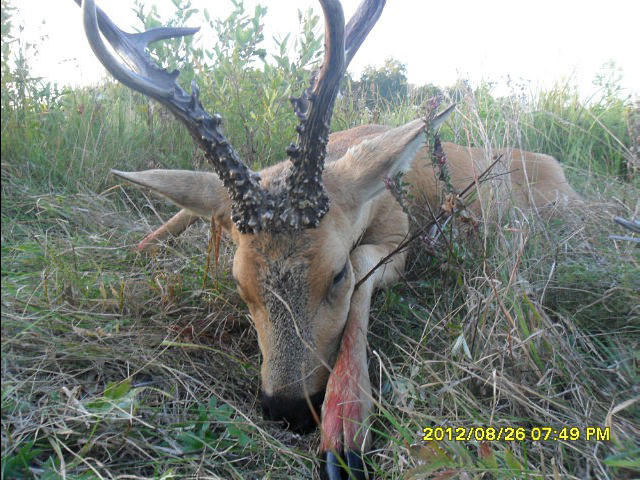 Hunting season
The optimal hunting dates are during the rut time, which runs much later than the European roe deer from the 25th of August to the 10th of September.
Hunting areas
In Kurgan, our partner hunts in private areas because here the hunting pressure is still much lower than in the national areas. In our areas we hunt sustainably, so you can assume that the trophy quality is higher than in state and cooperative areas. Not every year is the same, of course, but based on our knowledge of the hunting grounds, on-site professional teams and sustainable hunting, we are sure our guests will find optimal conditions again this year.
The hunting areas offer an optimal roe deer biotope with about one third of forest, one third grassland and fallow land and one third arable land, which is mostly plantes with wheat. Average good trophies have about 850 -950 g, the peak values ​​are up to 1,500 g.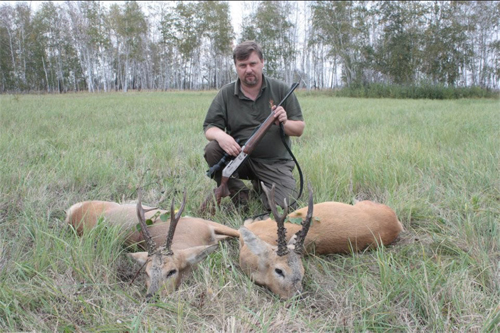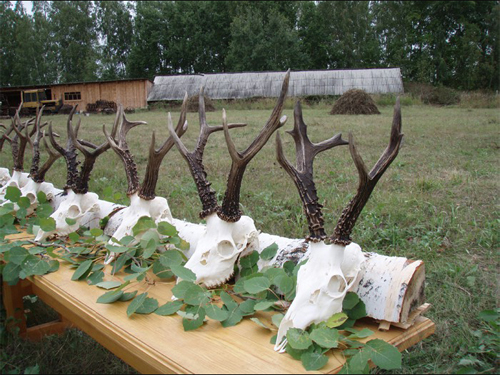 Hunting days and process
We generally plan with 5-6 hunting days that any hunting guest can hunt in peace and to achieve the best possible trophy quality. In 5-6 hunting days it is possible to kill 2 to 3 good bucks per hunter. Our partner takes only a limited number of hunting guests per year, so it is advisable to book early. The hunt takes place mainly as stalking. Due to the width and size of the individual district parts SUVs are used. If a goat comes into sight, it will be stalked. The hunting guest should be familiar with the shot from the tree or tripod. If a good buck is seen it is approached by stalking and taking advantage of the natural cover option. Also in the private areas many protective initiatives have been started to increase the game stock steadily by preventing poaching.
Accommodation
During the stay you will be lodged in functional camps and caravans where 3 to 5 hunters can be accommodated at the same time. The accommodation, food and service are on a typical good simple standard.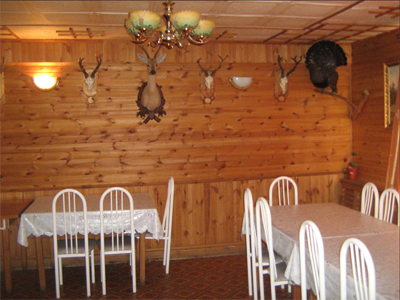 Climate
The average daily temperature in August – September is + 20 to + 25 C and at night from 5 to + 10 C. In October on the day of +8 to 10 C, during the night from – 1 to – 5 C. Rain is possible ,
Arrival
The journey is relatively easy to fly to Ekatarinenburg like with Lufthansa. Finnair also has very good and, above all, cheap flights to Yekaterinburg via Helsinki, but an early flight booking is recommended. The transfer from Ekaterinburg is done by jeep or minibus and takes about 5 to 7 hours.
Capercaile / blackgrouse
In addition to hunting for Siberian roe buck, Kurgan also offers excellent hunting opportunities for grouse in spring. The stocks of both wild game species are very good. Above all black grouses are in this region particularly numerous and in all districts at home so that in some cases up to 20 to 30 birds can be seen in one outing. The capercaile also has very good stocks in many forest areas Kurgans: Guarantee for a safe hunt for this beautiful game. This hunt is easier here than in most areas in the European part of Russia.
Hunting arrangement
Capercaile / black grouse in Kurgan
7 travel / 4 hunting days
Including shooting of one cock each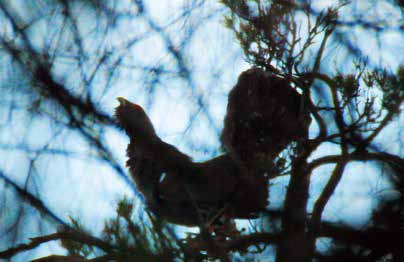 Included in the price:
Transfer from / to Ekaterinburg Airport as well as all rides in the hunting area
Accommodation and full board in the hunting area
Hunting guide 1: 1; one interpreter per group
Weapon, hunting license, veterinary certificate
Pre-preparation of the trophies
Not included in the price:
Processing fee 150 Eur
Visa costs 80 Eur
Flight costs to / from Ekaterinburg
Further kills
Tips, alcohol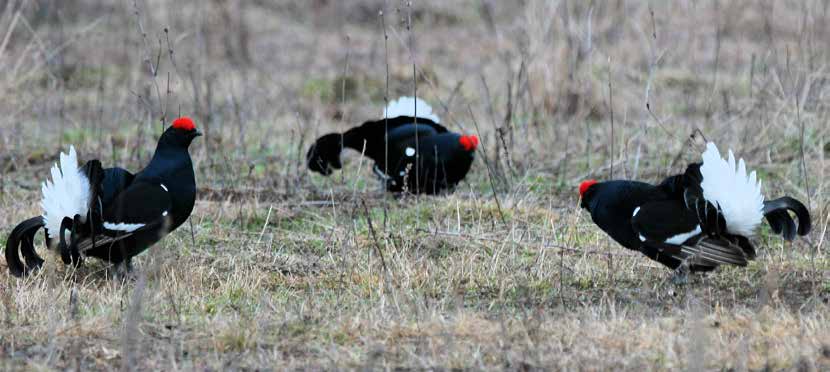 If you have any questions or are interested in a mediation offer for hunting trips and hunting in Kurgan, please contact us via Email or contact form.
All offered trips are arranged by us and carried out by our partners as organizers.