Scotland – Traditional hunting in the Scottish Highlands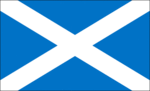 Scotland offers untouched nature and vast people empty landscapes which offers the best habitats for wildlife such as red stag, sika deer or roe deer. Due to the harsh living conditions in the Highlands, the trophy strengths of the red deer are lower than ours, but the sporting aspect is what counts when hunting in Scotland.
A red deer hunt in the Scottish Highlands is both challenging and memorable. This will be a lasting experience for your hunting life.