Hunting in Montenegro
Hunting in Montenegro we offer with our partner who is located in Ulcinj, Montenegro. He has been active in tourism for more than 10 years now and offers various tourist activities in the field of hunting and fishing.
Hunting grounds
My partner owns several areas in Montenegro where he can offer hunting for wild boar, wolf and birds.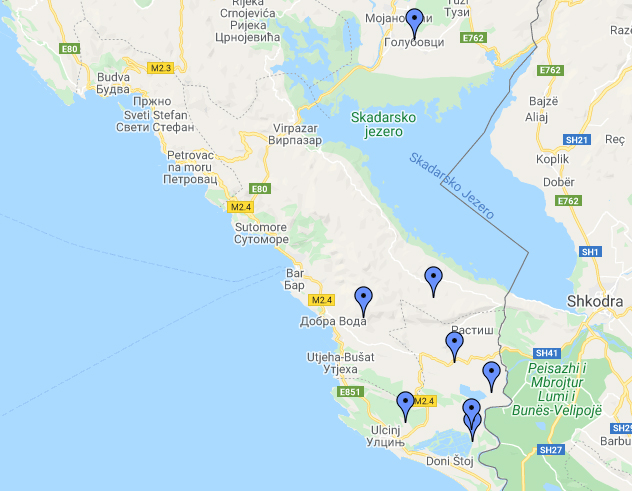 Game species
wild boar, wolf, bird hunting
Hunting approach
The hunting day (depending on the hunter) usually starts early in the morning. Breakfast is served in the form of a packed lunch, because during breakfast time you are on the hunt. From 7 a.m. to 12 noon hunting for pheasant, snipe, rabbit. After that you will have lunch. From 2 p.m. to 4.30 p.m. hunting of pheasant, snipe, rabbit, then hunting duck until dark. Hunter and P.H. will walk behind the dogs, who will stand 20 – 100 m in front of the group.
Hunting season:




Accomodation:
Accommodation will be in a 4 or 5 star hotel near the hunting ground with breakfast.
Climate:
The coast of Montenegro has a Mediterranean climate with hot, dry summers and moderately cool winters, with summer maximum temperatures averaging 25 to 30 degrees Celsius, while in winter they drop to mild lows of 4 degrees and highs of 11 degrees.
. The rest of Montenegro has a completely different climate. The Dinaric Mountains, with altitudes above 2,000 metres, are a kind of climate divide. To the west of the mountains there is a Mediterranean climate, to the east a moderate continental climate dominates.
If you have any questions or are interested in an offer to hunt and hunting in Montenegro, please contact us via email or contact form.
All offered trips are arranged by us and carried out by our partners as organizers.