Hunting in France
Hunting in France is a unique experience. An enthusiastic hunter for a long time, my partner has been organising and accompanying stalking hunts for ten years. His experience allows us to offer you proven objectives in good quality hunting.
Hunting in France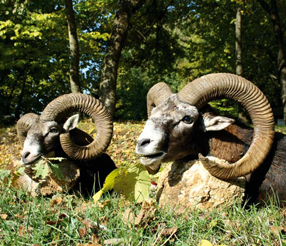 Hunting areas
My partner owns different areas depending on the game species for hunting in France. In the South of France we hunt for roebuck and red deer, in the Pyrenees and Southern Alps for chamois and in Gorges du Tarn for mouflon.
Game species
Roebuck, chamois and red deer
Roebuck hunting

Roebuck
We offer you a deer stalking in the south of France in open country. Hunting takes place on an area of 150 000 ha around Toulouse here we hunt about 150 roebucks every year. Roe deer of 350 gr. is widespread and a good percentage (15-20% of it is over 105 pts CIC.
Our hunting season starts on June 1st and ends on August 15th. The best period is from June 1st to June 20th and from July 20th to August 10th.
For roebuck the area is 45 minutes from Toulouse airport.
You will be accommodated in a bed and breakfast with swimming pool or in a hotel **** according to your wishes.
Deer hunting

Red deer
We offer you a fantastic hunt during the rutting season in the Pyrenees in southern France. Different hunting grounds for all, giving all hunters the chance to find a good Pyrenees red deer. We hunt most of the day, the rutting season offers the chance to find the old Pyrenees red deer.
The best hunting period during the rutting season is from 25 September to 5 October. After this period we can continue hunting until 31 January.
Our area is 2 hours away from Toulouse airport. You will be accommodated in a bed and breakfast.
Mouflon hunting

Mouflon
We offer you the mouflon hunting in the South of France near the town of Millau in the "Gorges du Tarn". This area has a good mouflon population and quality. Up to 3 hunters can be accomodated. It is also a very good area for holidays.
Hunting takes place from 1 September to 31 January. Our best hunting period is during the rutting season is from October 25th to November 15th.
The area is 3 hours from Toulouse airport. You will be accommodated in a bed and breakfast.
Chamois hunting

Chamois
For hunting chamois we have 2 areas. One is the chamois hunting in the Verdon Gorges. This area is located 2 hours from Nice and has an altitude that varies between 800 and 1800 meters. From September 8th to January 13th you can hunt every day except Tuesdays and Fridays. The low mountain range areas are between 700 and 1500 metres above sea level and are made up of buis and holm oaks, which lie in the middle of the gravel and limestone rocks. These animals are very easy to observe on the rocks that dominate the vegetation. Thanks to the rich composition of the biotope and the very favourable climate, there are very beautiful individuals in these areas.
Possible combination: It is possible to hunt the red deer at the same time.
Maritim Alps Chamois
The second area is located in the Maritime Alps. This area is located at 1h30 from Nice and has an altitude that varies between 800 and 1900 meters, giving you the opportunity to hunt every day from September 8th to November 28th. It is necessary to have a good physical condition, the areas of the middle mountains are between 700m and 1900m altitude and consist of low Mediterranean vegetation and meadows. Thanks to the rich composition of the biotope and the very favourable climate there are very good chamois in these territories.
Possible combination: Red deer can be hunted simultaneously from 8 September to 13 January.
Hunting time:
The hunting season for chamois is from 11 September to 31 January, roe deer from 1 June to 28 February, mouflon from 1 September to 31 January and for red deer from 15 September to 15 October.
Accomodation:
Accommodation is in a guesthouse located near the hunting ground, usually with breakfast or half board.
Climate:
France has many different climatic conditions. The northwest has a moderate maritime climate. In the north-east the climate is more continental. On the west at the Atlantic coast oceanic moderate climate prevails. In winter it is humid and not too cold. Only rarely does snow fall. In summer it is humid and warm. At the Mediterranean Sea there is a different climate again. Summers are hot with average maximum temperatures above 25 degrees Celsius and little precipitation and winters remain mild. The biggest amounts of precipitation fall there in the autumn months. Furthermore, the Alps and Pyrenees have a rather harsh mountain climate with dry summers and cold and snowy winters. A similar climate also prevails in the Massif Central. It remains milder in the Paris basin and the Loire valley. Warm summers can also be expected there.
If you have any questions or are interested in an offer to hunt and hunting in France, please contact us via email or contact form.
All offered trips are arranged by us and carried out by our partners as organizers.